Un reexamen y revisión de las especies de Peziza sensu lato (Pezizomycetes) en el cono sur de Sudamérica
Donald H. Pfister

Farlow Reference Library and Herbarium of Cryptogamic Botany, Harvard University, 22 Divinity Avenue, Cambridge, Massachusetts 02138, USA.

https://orcid.org/0000-0002-9018-8646

Rosanne Healy

Department of Plant Pathology, University of Florida, 2527 Fifield Hall, Gainesville FL 32611, USA.

https://orcid.org/0000-0001-7616-0092

Giuliana Furci

Fundación Fungi, Jose Zapiola 8240, La Reina, Santiago, Chile.

Alija Mujic

Department of Biology, California State University, Fresno, Science I room 314A, Fresno CA 93740, USA.

https://orcid.org/0000-0002-5810-5521

Eduardo Nouhra

Instituto Multidisciplinario de Biología Vegetal (CONICET), FCEFyN, Universidad Nacional de Córdoba, CC 495, Córdoba 5000, Argentina.

http://orcid.org/0000-0002-7080-8211

Camille Truong

Royal Botanic Gardens Victoria, Birdwood Avenue, Melbourne, VIC 3004, Australia.

https://orcid.org/0000-0002-8510-1761

Marcos V. Caiafa

Department of Microbiology and Plant Pathology, University of California Riverside, 3239 Webber Hall, Riverside CA, 92521, USA.

https://orcid.org/0000-0002-1831-0758

Matthew E. Smith

Department of Plant Pathology, University of Florida, 2527 Fifield Hall, Gainesville FL 32611, USA.

https://orcid.org/0000-0002-0878-0932
Palabras clave:
Argentina, bosque Andino-Patagónico, Chile, delimitación genérica, filogenia, Pezizaceae
Resumen
En este trabajo hemos revisado material fresco y colecciones históricas de Pezizales epigeos formalmente incluidos en el amplio y heterogéneo género Peziza provenientes de las zonas templadas del sur de Sudamérica. Estudios recientes basados en filogenias moleculares han permitido posicionar estas especies en varios géneros previamente descritos demostrando su heterogeneidad. Incluimos aquí especies de nueve géneros, una especie nueva para la ciencia (Peziza gamundiae sp. nov.) y proponemos una nueva combinación (Phylloscypha nothofageti comb. nov.). También demostramos que Pustularia microspora es sinónimo de un taxón previamente descrito como Peziza pseudosylvestris. Nuestro objetivo es llamar la atención sobre la presencia de estos taxa para promover su recolección y estudio en trabajos científicos modernos.
Citas
Bertero, C. G. 1829. Lista de plantas que han sido observadas en Chile por el Dr. Bertero en 1828. Mercurio Chileno 12: 551-564.
Cash, E. K. 1957. Some Chilean Discomycetes collected by Roland Thaxter. Sydowia Beiheft 1: 289-293.
Castresana, J. 2000. Selection of conserved blocks from multiple alignments for their use in phylogenetic analysis. Molecular Biology and Evolution 17: 540-552. DOI: https://doi.org/10.1093/oxfordjournals.molbev.a026334
Dissing, H. 2000. Pezizales pp. 55-128 in Nordic Macromycetes vol. 1 Ascomycetes, eds. Hansen L & Knudsen H. Norsvamp, Copenhagen.
Furci, G. 2016. Guía de Campo Hongos de Chile. Vol. 1, revised edition. Fundación Fungi, Santiago, Chile. 255p.
Gamundí, I. J. 1960. Discomycetes operculados de Argentina: Familias Pezizaceae y Humariaceae. Lilloa 30: 257-338.
Gamundí, I. J. 1964. Discomycetes operculados del Parque Nacional Nahuel Huapi (Argentina). Darwiniana 13 (2-4): 568-606.
Gamundí, I. J. 1966. Nota sobre Pezizales Bonaerenses con comentarios sobre el "status" de algunos géneros. Revista Museo de la Plata (Nueva Serie), Sección botánica 10: 47-68.
Gamundí, I. J. 1971. Algunos discomycetes de Chile. Boletín de la Sociedad Argentina de Botánica 13 (4): 260-289.
Gamundí, I. J. 1975. Orden Pezizales, in Guarrera, S. A.; I. Gamundí de Amos & D. Rabinovich de Halperin (eds). Flora Criptogámica de Tierra del Fuego 10(3): 7-184.
Gamundí, I. J. 1983. Pezizales de America tropical. Anais do XXXIV Congresso Nacional de Botânica Congresso, Simpósios 1: 151-171.
Gamundí, I. J.; D. W. Minter, A. J. Romero, V. A. Barrerea, L. AGiaiotti, M. I. Messuti & M. Stecconi. 2004. Checklist of the discomycetes (Fungi) of Patagonia, Tierra del Fuego and adjacent Antarctic areas. Darwiniana 42: 63-164.
Gamundí, I. J. & A. L. Giaiotii. 1998. Nota sobre discomycetes Andino-Patagónicos II. Novedades taxonómicas. Darwiniana 35: 49-60.
Gardes, M. & T. D. Bruns. 1993. ITS primers with enhanced specificity for basidiomycetes-application to the identification of mycorrhizae and rusts. Molecular Ecology 2: 113-118. DOI: https://doi.org/10.1111/j.1365-294X.1993.tb00005.x
Hansen, K.; T. Læssøe & D. H. Pfister. 2001. Phylogenetics of the Pezizaceae, with an emphasis on Peziza. Mycologia 93: 958-990. DOI: https://doi.org/10.2307/3761760
Hansen, K.; T. Læssøe & D. H. Pfister. 2002. Phylogenetic diversity in the core group of Peziza inferred from ITS sequences and morphology. Mycological Research 106: 879-902. DOI: https://doi.org/10.1017/S0953756202006287
Hariot, M. P. 1889. Champignons. Mission Scientifique du Cap Horn, 1882-1883. V. Botanique. pp. 113-200, 3 maps.
Healy, R. A.; A. E. Arnold, G. Bonito, Y-L. Huang, B. Lemmond, D. H. Pfister & M. E. Smith. 2022. Endophytism and endolichenism in Pezizomycetes: the exception or the rule? New Phytologist 233: 1974-1983
Hennebert, G. L. 1973. Botrytis and Botrytis-like genera. Persoonia 7: 183-204.
Hennebert, G.L. 2020. Chromelosporium re-evaluated, with Chromelosporiopsis gen. nov. and Geohypha stat. nov. Mycotaxon 135: 665-718. DOI: https://doi.org/10.5248/135.665
Hopple Jr., J. S. & R. Vilgalys. 1994. Phylogenetic relationships among coprinoid taxa and allies based on data from restriction site mapping of nuclear rDNA. Mycologia 86: 96-107. DOI: https://doi.org/10.1080/00275514.1994.12026378
Jamoni, P. G. 1997. Lo studio del genere Peziza (Dill.) L. ex St.-Amans. Funghi e Ambiente 74-75: 3-38.
Katoh, K. & H. Toh. 2010. Parallelization of the MAFFT multiple sequence alignment program. Bioinformatics 26:1899-1900.
Lantieri, A.; G. Medardi & P. Alvarado. 2016. Morphological and phylogenetic classification of Peziza arvernensis, P. pseudovesiculosa, P. pseudosylvestris, and P. domiciliana. Mycotaxon 131: 827-839. DOI: https://doi.org/10.5248/121.465
Lazo, W. 1971. Contribution á l'étude des macromycètes du Chili. Lejeunia 61: 1-30.
Lazo, W. 2016. Hongos de Chile, atlas micológica. Facultad de Ciencias de la Universidad de Chile. 316 p.
Lazo, W.; P. Gutiérrez, M. Monteconos & J. Torrico. 1977. Los hongos más comunes del Jardín Botánico de Viña del Mar y de los bosques de Peñuelas y El Tabo. Universidad de Chile. Facultad de Ciencias Forestales, Boletin Técnico, no. 38: 36 pp.
Lloyd, C. G. 1920. Mycological note 941. Mycological Writings 6: 985-1029.
Maddison, W. & D. Maddison. 2018. Mesquite: a modular system for evolutionary analysis. Version 3.70 http://www.mesquiteproject.org
Medardi, G.; A. Lantieri, D. H. Pfister, K. F. LoBuglio & G. Cacialli. 2013. Clarification of Peziza fimeti with notes on P. varia collections on dung. Mycotaxon 121: 465-476. DOI: https://doi.org/10.5248/121.465
Miller, M, A.; W. Pfeiffer & T. Schwartz. 2010. Creating the CIPRES Science Gateway for inference of large phylogenetic trees. In: 2010 Gateway Computing Environments Workshop (GCE). New Orleans, USA pp 1-8. DOI: https://doi.org/10.1109/GCE.2010.5676129
Moravec, J. 1994. Some new taxa and combinations in the Pezizales. Czech Mycol. 47: 261-269. DOI: https://doi.org/10.33585/cmy.47402
Moravec, J. & B. Spooner. 1988. Peziza vacinii (Pezizales), with notes on taxonomy of related brown-spored species. Transaction of the British Mycological Society 90: 43-48. DOI: https://doi.org/10.1016/S0007-1536(88)80178-5
Mujica, R. F.; C. Vergara & B. E. Oehrens. 1980. Flora Fungosa Chilena. ed. 2. Ciencia Agricolas, no 5. 308 pp.
Palacios Allendes, V. 1966. Investigación de la actividad antibacteriana de hongos superiores de Chile. Anales de la Facultad de Química y Farmacia. 1955: 106-113.
Pegler, D. N.; B. M. Spooner & R. I. Lewis Smith. 1980. Higher fungi of Antarctica, the subantarctic zone and Falkland Islands. Kew Bulletin 35: 499-562. DOI: https://doi.org/10.2307/4110020
Pfister, D. H. 2015. Pezizaceae taxonomy and classification: Boudier, Cooke and Korf. Ascomycete.org 7 (6): 239-244. DOI: https://doi.org/10.25664/art-0145
Pfister, D. H.; K. F. LoBuglio & R. Kristiansen. 2016. Species of Peziza s. str. on water-soaked wood with special reference to a new species, P. nordica, from central Norway. Sydowia 68: 173-185.
Raithelhuber, J. H. 1983. Über die Nomenklatur einiger Argentinischer Blätterpilze. Metrodiana 2: 1-24.
Raithelhuber, J. H. 2004. Nueva Flora Micológica Argentina, Stuttgart: J. H. Raithelhuber, 576 pp.
Rambaut, A. 2007. Se-Al: sequence alignment editor. Available online at: http://tree.bio.ed.ac.uk/software/seal
Rambaut, A. 2012. FigTree v1.4.2 http://tree.bio.ed.ac.uk/
Rifai, M. A. 1968. The Australasian Pezizales in the herbarium of the Royal Botanic Gardens Kew. Verhhandelingens der Koninkliljke Nederlandse Akademie van Wetenschappen, Afd. Natuurkunde, Tweede reeks 57(3): 1-295.
Sánchez-Jardón, L; L. del Rio-Hortega, N. Núñez Cea, M. Mingarro, P. Manubens, S. Zambrano & B. Acosta Gallo 2021. Fungal literature records database of the sub-Antarctic Region of Aysén, Chile. Biodiversity Data Journal 9: e75951. DOI: https://doi.org/10.3897/BDJ.9.e75951
Smith, M. E. 2014. A new hypogeous Peziza species that forms ectomycorrhizas with Quercus in California. North American Fungi 9(4): 1-10. DOI: https://doi.org/10.2509/naf2014.009.004
Spegazzini, C. 1887. Fungi fuegiani. Boletín de la Academia Nacional de Ciencias Córdoba 11: 135-308.
Spegazzini, C. 1909. Mycetes Argentinensis. Anales Museo Nacional de Buenos Aires, Ser 3 12: 257-458
Stamatakis, A. 2014. RAxML version 8: a tool for phylogenetic analysis and post-analysis of large phylogenies. Bioinformatics 30: 1312-1313. DOI: https://doi.org/10.1093/bioinformatics/btu033
Stamatakis, A. 2015. Using RAxML to infer phylogenies. Current Protocols in Bioinformatics 51: 6-14. DOI: https://doi.org/10.1002/0471250953.bi0614s51
Truong C.; A. B. Mujic, R. Healy, et al. 2017. How to know the fungi: combining field inventories and DNA-barcoding to document fungal diversity. New Phytologist 214: 913-919. DOI: https://doi.org/10.1111/nph.14509
Vandepol, N.; J. Liber, A. Desirò, H. Na, M. Kennedy, K. Barry, I. V. Grigoriev, A. N. Miller, K. O'Donnell, J. E. Stajich & G. Bonito. 2020. Resolving the Mortierellaceae phylogeny through synthesis of multi-gene phylogenetics and phylogenomics. Fungal Diversity 104: 267-289. DOI: https://doi.org/10.1007/s13225-020-00455-5
Van Vooren N.; M. Carbone, C. Sammut & A. C. Grupe. 2019. Preliminary notes on the genus Tarzetta (Pezizales) with typification of some species and description of six new species. Ascomycete.org 11: 309-334. DOI: https://doi.org/10.25664/ART-0288
Van Vooren, N. 2020. Reinstatement of old taxa and publication of new genera for naming some lineages of the Pezizaceae (Ascomycota). Ascomycete.org 12: 179-192. DOI: https://doi.org/10.12664/ART-0305
Vilgalys, R & M. Hester. 1990. Rapid genetic identification and mapping of enzymatically amplified ribosomal DNA from several Cryptococcus species. Journal of Bacteriology 172: 4238-4246. DOI: https://doi.org/10.1128/jb.172.8.4238-4246.1990
Vizzini, A.; A. Lantieri, G. Medardi & E Ercole. 2016. Phylogeny and morphology of the Peziza ammophila complex (Pezizales, Ascomycota), with description of two new species and a new form. Mycological Progress 15:883-901. DOI: https://doi.org/10.1007/s11557-016-1213-9
Vizzini, A.; G. Medardi, H. Tamm, N. Forin, S. Voyron & E. Ercole. 2020. Study and clarification of Peziza petersii and P. proteana (Ascomycota, Pezizaceae), and Underwoodia campbellii resurrected for the "cabbage-head fungus" (formerly P. proteana f. sparassoides). Mycological Progress 19: 505-523. DOI: https://doi.org/10.1007/s11557-020-01575-7
Webster J.; M. A. Rifai & M. S. H. El-Abyad. 1964. Culture observations on some Discomycetes from burnt ground. Transaction of the British Mycological Society 47: 445-454. DOI: https://doi.org/10.1016/S0007-1536(64)80016-4
Werle, E.; C. Schneider, M. Renner, M. Völker & W. Fiehn. 1994. Convenient single-step, one tube purification of PCR products for direct sequencing. Nucleic Acids Research 22: 4354-4355. DOI: https://doi.org/10.1093/nar/22.20.4354
White, T. J.; T. D. Bruns, S. Lee & J Taylor. 1990. Amplification and direct sequencing of fungal ribosomal RNA genes for phylogenetics. PCR Protocol a Guide to Methods Applications 18: 315-322. DOI: https://doi.org/10.1016/B978-0-12-372180-8.50042-1
Wiedemann, A. 1998. Ammophila arenaria (L.) Link (European beach grass, marram grass) on the northwest coast of North America. Botanical Electronic News no. 183.
Zhuang, W. Y. 1998. A list of Discomycetes in China. Mycotaxon 67: 365-390.
Zhuang, W. Y. 2001.A list of Discomycetes in China. Supplement 1. Mycotaxon 79: 375-381.
Zhuang, W. Y. 2003.A list of Discomycetes in China. Supplement 2. Mycotaxon 85: 153-157.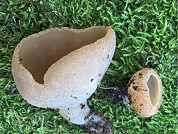 Cómo citar
Pfister, D. H., Healy, R., Furci, G., Mujic, A., Nouhra, E., Truong, C., Caiafa, M. V., & Smith, M. E. (2022). Un reexamen y revisión de las especies de Peziza sensu lato (Pezizomycetes) en el cono sur de Sudamérica. Darwiniana, Nueva Serie, 10(1), 148-177. https://doi.org/10.14522/darwiniana.2022.101.1019
Sección
Sistemática y Taxonomía de Algas y Hongos

A partir de 2012, esta obra está licenciada bajo una Licencia Creative Commons Atribución-NoComercial 2.5 Argentina .
Cualquier obra derivada deberá estar previamente autorizada con nota escrita de los editores.