ANÁLISIS PRELIMINAR DE LA VARIABILIDAD GENÉTICA DE ESCALLONIA ALPINA Y E. RUBRA (ESCALLONIACEAE)
Santiago Morello

Instituto de Botánica Darwinion (ANCEFN-CONICET), Labardén 200, Casilla de Correo 22, B1642HYD San Isidro, Buenos Aires.

Liliana M. Giussani

Instituto de Botánica Darwinion (ANCEFN-CONICET), Labardén 200, Casilla de Correo 22, B1642HYD San Isidro, Buenos Aires.

Silvana M. Sede

Instituto de Botánica Darwinion (ANCEFN-CONICET), Labardén 200, Casilla de Correo 22, B1642HYD San Isidro, Buenos Aires.
Palabras clave:
AFLP, Escallonia, Patagonia, Sudamérica austral.
Resumen
Escallonia alpina y E. rubra (Escalloniaceae) comparten su área de distribución en el sur de los Andes y se diferencian por pocos caracteres morfológicos diagnósticos, tales como la disposición de las flores y la presencia y tipo de glándulas; sin embargo, en algunas poblaciones no es posible asignar los individuos a una u otra especie. Además, se han reconocido y descrito como híbridos varias formas de transición entre ambas. El objetivo de este trabajo es examinar la variabilidad genética poblacional de Escallonia alpina y E. rubra, y analizar si se corresponde con la variabilidad morfológica observada.  Se estudió la morfología en 39 individuos de cinco poblaciones sobre los que también se realizó un análisis de AFLP. Se investigó la relación entre los individuos mediante análisis de ordenación, agrupamiento y de asignación bayesiana. Además se calcularon índices de diversidad y se realizó una prueba de Mantel. A partir del análisis morfológico, se asignaron dos poblaciones a cada especie, mientras que una población con individuos con morfología intermedia no se pudo asignar unívocamente a ninguna de las dos especies. Se observó una fuerte correspondencia entre las especies delimitadas mediante caracteres morfológicos diagnósticos tradicionales y el patrón de AFLP. La evidencia morfológica y molecular preliminar nos permitió reconocer a Escallonia alpina y E. rubra como dos especies distintas, y a una población con caracteres morfológicos y genéticos intermedios que podrían ser el resultado de flujo génico interespecífico o de una separación incompleta de linajes.
Citas
Anderson, G. J.; G. Bernardello, T. F. Stuessy & D. J. Crawford. 2001. Breeding system and pollination of selected plants endemic to Juan Fernández Islands. American Journal of Botany 88: 220-233.
Arrigo, N.; J. W. Tuszynski, D. Ehrich, T. Gerdes & N. Álvarez. 2009. Evaluating the impact of scoring parameters on the structure of intra-specific genetic variation using RawGeno, an R package for automating AFLP scoring. BMC Bioinformatics 10: 33.
de Queiroz, K. 2007. Species concepts and species delimitation. Systematic Biology 56: 879-886.
Doyle, J. J. & J. L. Doyle. 1987. A rapid DNA isolation procedure for small quantities of fresh leaf tissue. Phytochemical Bulletin 19: 11-15.
Ehrich, D. 2006. AFLPDAT: a collection of R functions for convenient handling of AFLP data. Molecular Ecology Notes 6: 603-604.
Excoffier, L. & H. E. L. Lischer. 2010. Arlequin suite ver 3.5: A new series of programs to perform population genetics analyses under Linux and Windows. Molecular Ecology Resources 10: 564-567.
Falush, D.; T. Wirth, B. Linz, J. K. Pritchard & M. Stephens. 2003. Traces of human migrations in Helicobacter pylori populations. Science 299: 1582-1585.
Falush, D.; M. Stephens & J. K. Pritchard. 2007. Inference of population structure using multilocus genotype data: dominant markers and null alleles. Molecular Ecology Notes 7: 574-578.
Hubisz, M. J.; D. Falush, M. Stephens & J. K. Pritchard. 2009. Inferring weak population structure with the assistance of sample group information. Molecular Ecology Resources 9: 1322-1332.
Hudson, R. R. 1992. Gene trees, species trees and the segregation of ancestral alleles. Genetics 131: 509-512.
Huson, D. H. & D. Bryant. 2006. Application of phylogenetic networks in evolutionary studies. Molecular Biology and Evolution 23: 254-267.
Khan, I. A.; J. D. Procunier, D. G. Humphreys, G. Tranquilli, A. R. Schlatter, S. Marcucci Poltri, R. Frohberg & J. Dubcovsky. 2000. Development of PCR-based markers for a high grain protein content gene from Triticum turgidum ssp. dicoccoides transferred to bread wheat. Crop Science 40: 518–524.
Mantel, N. 1967. The detection of disease clustering and a generalized regression approach. Cancer Research 27: 209-220.
Martínez-Ortega, M. M.; L. Delgado, D. C. Albach, J. A. Elena-Rosselló & E. Rico. 2004. Species boundaries and phylogeographic patterns in cryptic taxa inferred from AFLP markers: Veronica subgen. Pentasepalae (Scrophulariaceae) in the western Mediterranean. Systematic Botany 29: 965-986.
McKinnon, G. E.; R. Vaillancourt, D. Steane & B. Potts. 2008. An AFLP marker approach to lower-level systematycs in Eucaliptus (Myrtaceae). American Journal of Botany 95: 368–380.
Nei, M. 1987. Molecular evolutionary genetics. New York: Columbia University Press.
Pritchard, J. K.; M. Stephens & P. J. Donnelly. 2000. Inference of population structure using multilocus genotype data. Genetics 155: 945-959.
R Development Core Team. 2012. A language and environment for statistical computing. Vienna (Austria): R Foundation for Statistical Computing. Disponible en www.R-project.org.
Rambaut, A. & A. J. Drummond. 2007. Tracer v1.4. Disponible en http://beast.bio.ed.ac.uk/Tracer.
Ruiz-Sanchez, E & V. Sosa. 2010. Delimiting species boundaries within the Neotropical bamboo Otatea (Poaceae: Bambusoideae) using molecular, morphological and ecological data. Molecular Phylogenetics and Evolution 54: 344-356.
Sanders, R. W.; T. F. Stuessy & R. Rodríguez. 1983. Chromosome numbers from the flora of the Juan Fernández Islands. American Journal of Botany 70: 799-810.
Schlüter, P. M. & S. A. Harris. 2006. Analysis of multilocus fingerprinting data sets containing missing data. Molecular Notes on Ecology 6: 569-572.
Schönswetter, P. & A. Tribsch. 2005. Vicariance and dispersal in the alpine perennial Bupleurum stellatum L. (Apiaceae). Taxon 54: 725-732.
Sede, S. M.; S. I. Dürnhöfer, S. Morello & F. Zapata. 2013. Phylogenetics of Escallonia (Escalloniaceae) based on plastid DNA sequence data. Botanical Journal of the Linnean Society 173: 442-451.
Sérsic, A. N.; A. Cosacov, A. A. Cocucci, L. A. Johnson, R. Pozner, L. J. Ávila, J. W. Sites & M. Morando. 2011. Emerging phylogeographic patterns of plants and terrestrial vertebrates from Patagonia. Botanical Journal of the Linnean Society 103: 475-494.
Sleumer, H. 1968. Die gattung Escallonia (Saxifragaceae). Verhandelingen der Koninklijke Nederlandse Akademie van Wetenschappen, Afd. Natuurkunde 58: 1-146.
Slovák, M.; J. Kučera, K. Marhold & J. Zozomová-Lihová. 2012. The morphological and genetic variation in the polymorphic species Picris hieracioides (Compositae, Lactuceae) in Europe strongly contrasts with traditional taxonomical concepts. Systematic Botany 37: 258-278.
Sneath, P. H. A. & R. R. Sokal. 1973. Numerical Taxonomy. The Principles and Practice of Numerical Classification. San Francisco: Freeman.
Tajima, F. 1983. Evolutionary relationships of DNA sequences in finite populations. Genetics 105: 437-460.
Thiers, B. [de actualización permanente, consulta 2013] Index Herbariorum: a global directory of public herbaria and associated staff. New York Botanical Garden's Virtual Herbarium, http://sweetgum.nybg.org/ih.
Valdivia, C. E. & H. N. Niemeyer. 2006. Do floral syndromes predict specialisation in plant pollination systems? Assessment of diurnal and nocturnal pollination of Escallonia myrtoidea. New Zealand Journal of Botany 44: 135-141.
Vos, P.; R. Hogers, M. Bleeker, M. Reijans, T. van de Lee, M. Hornes, A. Frijters, J. Pot, J. Peleman & M. Kuiper. 1995. AFLP: a new technique for DNA fingerprinting. Nucleic Acids Research 23: 4407-4414.
Whittall, J. B.; C. B. Hellquis, E. L. Schneider & S. A. Hodges. 2004. Cryptic species in an endangered pondweed community (Potamogeton, Potamogetonaceae) revealed by AFLP markers. American Journal of Botany 91: 2022–2029.
Zapata, F. 2013. A multilocus phylogenetic analysis of Escallonia (Escalloniaceae): diversification in montane South America. American Journal of Botany 100: 526-545.
Zielinski, Q. B. 1955. Escallonia: the genus and its chromosomes. The Botanical Gazette 117: 166-172.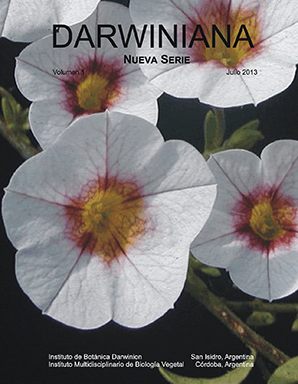 A partir de 2012, esta obra está licenciada bajo una Licencia Creative Commons Atribución-NoComercial 2.5 Argentina .
Cualquier obra derivada deberá estar previamente autorizada con nota escrita de los editores.