Psathyrella euthygramma (Agaricales, Basidiomycota), nuevo registro para Brasil
Felipe Wartchow

Universidade Federal da Paraíba, Departamento de Sistemática e Ecologia, Pós-Graduação em Biologia de Fungos, CEP 58051-970, João Pessoa, PB, Brazil.

Ana R. P. Gomes

Universidade Federal de Pernambuco, Departamento de Micologia, Av. Nelson Chaves s/n, 50760-420, Recife, PE, Brazil.
Palabras clave:
Agaricomycetes, Neotrópico, Psathyrellaceae, Selva Atlántica
Resumen
Psathyrella euthygramma es citada por primera vez para Brasil, creciendo sobre madera en descomposición en la Selva Atlántica. Los caracteres diagnósticos son los basidiomas pequeños, el estipe con un anillo fugaz y la base densamente estrigosa, las basidiosporas pequeñas, con poro germinativo y cistídios de paredes finas a ligeramente engrosadas.
Citas
Berkeley, M. J. & M. A. Curtis. 1868. Fungi Cubenses (Hymenomycetes). Journal of the Linnean Society, Botany 10: 280-392. DOI: 10.1111/j.1095-8339.1868.tb00529.x
Bononi, V. L. R.; S. F. B. Trufem & R. A. P. Grandi. 1981. Fungos macroscópicos depositados no Herbário do Instituto de Botânica de São Paulo. Rickia 9: 37-53.
Bononi, V. L. R.; E. S. F. Mucci, N. K. S. Yokomizo & G. Guzmán. 1984. Agaricales (Basidiomycetes) do Parque Estadual de Campos do Jordão, SP, Brasil. Rickia 11: 85-89.
Bononi, V. L. R.; A. K. M. Oliveira, J. R. Quevedo & A. M. Gugliotta. 2008. Fungos macroscópicos do Pantanal do Rio Negro, Mato Grosso do Sul, Brasil. Hoehnea 35: 489-511.
Breitenbach, J. & Kranzlin F. 1995. Fungi from Switzerland. Agarics. 2nd part. IV. Lucerne, Mykologia Lucerne.
Bulliard, P. 1790. Herbier de la France. Paris.
Cortez, V. G. & G. Coelho. 2005. Additions to the mycobiota (Agaricales, Basidiomycetes) of Rio Grande do Sul, Brazil. Iheringia, Série Botânica 60: 69-75.
Dennis, R. W. G. 1961. Fungi venezuelani: IV. Agaricales. Kew Bulletin 15: 67-156. DOI: 10.2307/4115784
De Luna, N. K. M.; E. Pessoa & M. Alves. 2016. Flora da Usina São José, Igarassu, Pernambuco: Zingiberales. Rodriguésia 67: 261-273. DOI: 10.1590/2175-7860201667114
Fries, E. M. 1821. Systema Mycologicum. I. Lunde, Lund & Greifswald, Ex Officina Berlingiana.
Grandi, R. A. P.; G. Guzmán & V. L. R. Bononi. 1984. Adições às Agaricales (Basidiomycetes) do Parque Estadual das Fontes do Ipiranga, São Paulo, Brasil. Rickia 11: 27-33.
Kirk, P. M.; P. F. Cannon, D. W. Minter & J. A. Stalpers. 2008. Ainsworth & Bisby's Dictionary of the Fungi. 10th Ed. Wallingford, CAB International.
Kits van Waveren, E. 1985. The Ducth, French and British species of Psathyrella. Persoonia Supplement 2: 1-300.
Kits van Waveren, E. 1995. The Berkeley & Broome species of Psathyrella in the Kew Herbarium. Kew Bulletin 50: 307-325.
Örstadius, L.; M. Rygberg & E. Larsson. 2015. Molecular phylogenetics and taxonomy in Psathyrellaceae (Agaricales) with focus on psathyrelloid species: introduction of three new genera and 18 new species. Mycological Progres 14: 25. DOI: 10.1007/s11557-015-1047-x
Padamsee, M.; P. B. Matheny, B. T. M., Dentinger & D. J. McLaughlin. 2008. The mushroom family Psathyrellaceae: evidence for large-scale polyphyly of the genus Psathyrella. Molecular Phylogenetics and Evolution 46: 415-429. DOI: 10.1016/j.ympev.2007.11.004
Pegler, D. N. 1977. A preliminary agaric flora of East Africa. Kew Bulletin Additional Series 6: 1-615.
Pegler, D. N. 1997. The Agarics of São Paulo, Brazil. Royal Botanic Garden, Kew.
Putzke, J. 1994. Lista dos fungos Agaricales (Hymenomycetes, Basidiomycotina) referidos para o Brasil. Caderno de Pesquisa, Série Botânica 6: 1-189.
Rick, J. 1961. Basidiomycetes Eubasidii in Rio Grande do Sul - Brasília 5. Iheringia, Série Botânica 8: 296-450.
Rosa, L. H. & M. Capelari. 2009. Agaricales fungi from Atlantic rain Forest fragments in Minas Gerais, Brazil. Brazilian Journal of Microbiology 40: 846-851. DOI: 10.1590/S1517-83822009000400015
Saccardo, P. A. 1888. Sylloge Fungorum V. Patavii.
Singer, R. 1961. Fungi of Northern Brazil. Publicação do Instituto de Micologia da Universidade do Recife 304: 1-26.
Singer, R. 1989. New taxa and new combinations in the Agaricales (Diagnoses Fungorum Novorum Agaricalium IV). Fieldiana Botany 21: 1-133.
Smith, A. H. 1972. The North American species of Psathyrella. Memoirs of the New York Botanic Garden 24: 1-633.
Thiers, B. [continuously updated, consulted 2019]. Index Herbariorum: a global directory of public herbaria and associated staff. New York Botanical Garden's Virtual Herbarium. Available from: htttp://sweetgum.nybg.org/ih/
Vašutová, M. 2008. Taxonomic studies on Psathyrella sect. Spadiceae. Czech Mycology 60: 137-171.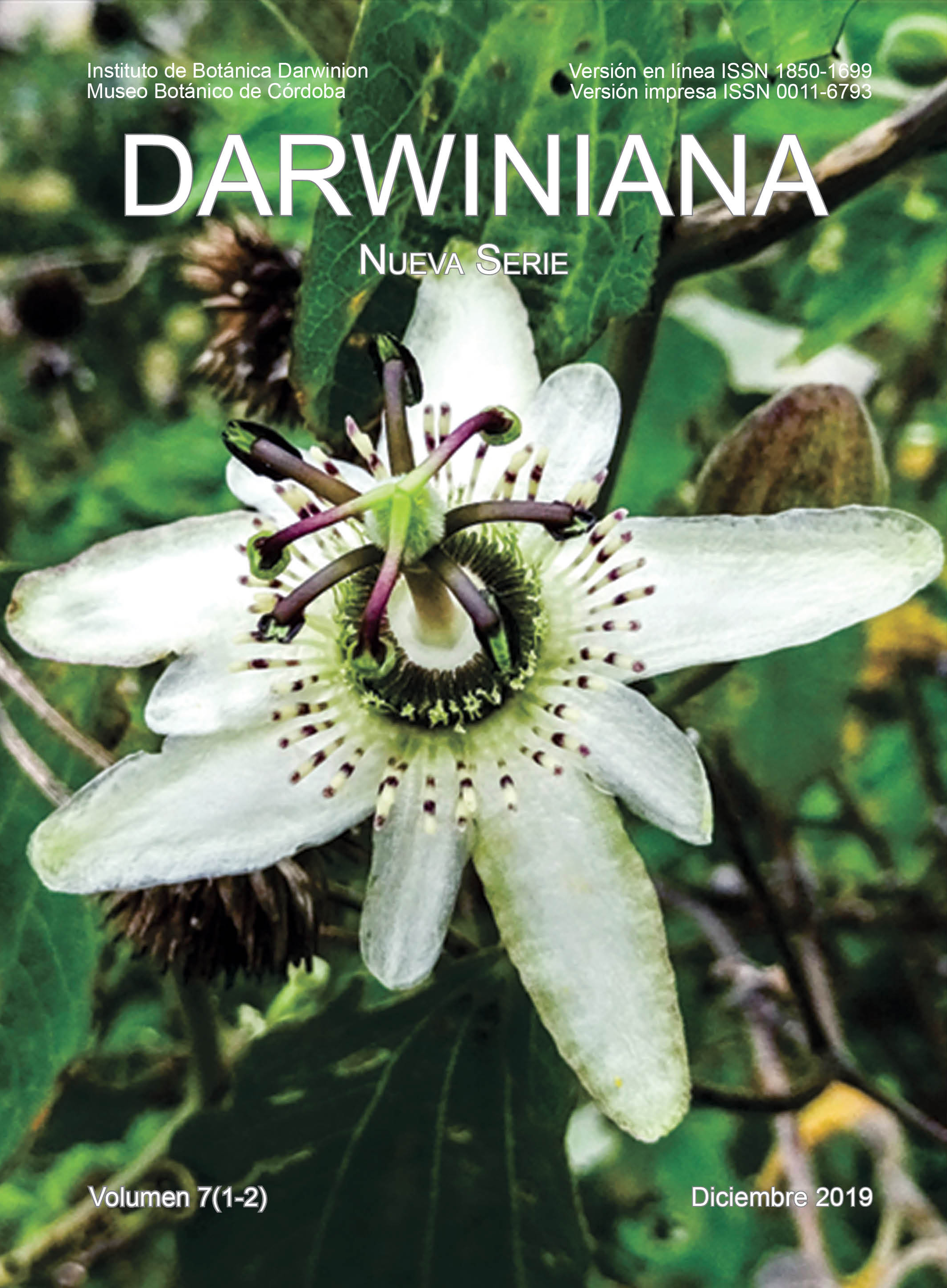 Sección
Notas florísticas y nomenclaturales

A partir de 2012, esta obra está licenciada bajo una Licencia Creative Commons Atribución-NoComercial 2.5 Argentina .
Cualquier obra derivada deberá estar previamente autorizada con nota escrita de los editores.