El género Ruehssia (Apocynaceae) en la Argentina: filogenia, nuevas combinaciones y nuevos registros
Héctor A. Keller

Instituto de Botánica del Nordeste, Casilla de Correo 209, 3400 Corrientes, Argentina.

Sigrid Liede-Schumann

University of Bayreuth, Universitätsstrasse 30, 95440 Bayreuth, Germany.

Alessandro Rapini

Programa de Pós-graduação em Botânica, Departamento de Ciências Biológicas, Universidade Estadual de Feira de Santana, Av. Transnordestina s/n, Novo Horizonte, Feira de Santana, Bahia, 44036-900, Brasil.

Sergio Cáceres Moral

Instituto de Botánica del Nordeste, Casilla de Correo 209, 3400 Corrientes, Argentina.
Palabras clave:
Asclepiadoideae, Marsdenia, Marsdenieae, taxonomía
Resumen
Ruehssia se restableció recientemente para clasificar a todas las especies americanas de la tribu Marsdenieae. Aquí, ofrecemos una revisión del género en la Argentina, con una clave de identificación, comentarios, un mapa de distribución e imágenes de todas las especies. La posición filogenética de todas las especies se ha evaluado utilizando secuencias de ADN nuclear y cloroplástico. Reconocemos seis especies. Además de R. altissima y R. macrophylla, incluimos dos nuevos registros, R. hilariana y R. brasiliensis, y proponemos dos nuevas combinaciones en el género, R. castillonii (Lillo ex T. Mey.) H.A. Keller & Liede y R. tressensiae (S.A. Cáceres y Morillo) H.A. Keller & Liede. Ruehssia montana y R. ulei, previamente citadas para la Argentina, no habitan en el país.
Citas
Cáceres Moral, S. A. 1993. Dos nuevas especies de Oxypetalum y Marsdenia (Asclepiadaceae) de Argentina. Bonplandia 7: 31-38.
Darriba, D.; D. Posada; A. M. Kozlov; A. Stamatakis; B. Morel & T. Flouri. 2020. ModelTest-NG: a new and scalable tool for the selection of DNA and protein evolutionary models. Molecular Biology and Evolution 37: 291-294.
Endress, M. E.; U. Meve, D. J. Middleton & S. Liede-Schumann. 2018. Apocynaceae, en J. W. Kadereit & V. Bittrich (eds.), The Families and Genera of Vascular Plants 15: 207-411. Cham: Springer.
Espírito Santo F. S.; A. Rapini; P. L. Ribeiro; S. Liede-Schumann; D. J. Goyder & J. Fontella-Pereira. 2019. Phylogeny of the tribe Marsdenieae (Apocynaceae), reinstatement of Ruehssia and the taxonomic treatment of the genus in Brazil. Kew Bulletin 74: 1-79.
Fontella-Pereira, J.; M. C. Valente; N. M. S. Marquete & C. L. F. Ichaso. 2004. Apocináceas-Asclepiadóideas, en A. Reis (ed.), Flora Ilustrada Catarinense, pp 224. Itajaí: Herbário Barbosa Rodrigues.
Fournier, E. 1885. Asclepiadaceae, en C. F. P. Martius & A. G. Eichler [Urban 1887-1906] (eds.), Flora Brasiliensis 6 (4): 189-331; tabs 50-98. Monachii: Typographia Regia.
Huelsenbeck, J. P. & F. Ronquist 2001. MRBAYES: Bayesian inference of phylogeny. Bioinformatics 17: 754-755.
Karsten, G. K. W. H. 1849. Ruehssia estebanensis, Ruehssia glauca, Ruehssia macrophylla, Ruehssia maculata, Ruehssia pubescens. Verh. Vereins. Beförd. Gartenbaues Königl. Preuss. Staaten 19: 305.
Katoh, K. & D. M. Standley. 2013. MAFFT multiple sequence alignment software version 7: improvements in performance and usability. Molecular Biology and Evolution 30: 772-780.
Lemoine, F.; D. Correia; V. Lefort; O. Doppelt-Azeroual; F. Mareuil; S. Cohen-Boulakia & O. Gascuel. 2019. NGPhylogeny. fr: new generation phylogenetic services for non-specialists. Nucleic Acids Research 47: 260-265.
Liede-Schumann, S.; A. Rapini; D. J. Goyder & M. W. Chase. 2005. Phylogenetics of the New World subtribes of Asclepiadeae (Apocynaceae-Asclepiadoideae): Metastelmatinae, Oxypetalinae and Gonolobinae. Systematic Botany 30: 184-200.
Maddison, W. P. & D. R. Maddison. 2019. Mesquite: a modular system for evolutionary analysis. Version 3.51.
Meyer, T. 1944. Asclepiadaceae, en H. R. Descole (ed.), Genera et Species Plantarum Argentinarum 2: 1-273. Buenos Aires: Kraft.
Meyer, T. 1947. Asclepiadaceae Argentinensis novae aut criticae III. Lilloa 13: 24-29.
Miller, M. A.; W. Pfeiffer & T. Schwartz. 2010. Creating the CIPRES Science Gateway for inference of large phylogenetic trees. In: Proceedings of the Gateway Com-puting Environments Workshop (GCE), 14 Nov. 2010, New Orleans, LA, pp 1-8.
Morillo, G. 1993. Nuevos taxones sudamericanos en el género Marsdenia R. Br. (Asclepiadaceae). Anales del Jardín Botánico de Madrid 51: 55-63.
Pessoa, C. R. M.; F. Riet-Correa; R. M. T. Medeiros; S. V. D. Simões & A. Rapini. 2011. Poisoning by Marsdenia hilariana and Marsdenia megalantha (Apocynaceae) in ruminants. Toxicon 58: 610-613.
Piel, W. H.; L. Chan; M. J. Dominus; J. Ruan; R. A. Vos & V. Tannen 2009. TreeBASE v. 2: A Database of Phylogenetic Knowledge. En: e-BioSphere 2009.
Rambaut, A.; A. J. Drummond; D. Xie; G. Baele & M. A. Suchard. 2018. Posterior summarisation in Bayesian phylogenetics using Tracer 1.7. Systematic Biology 67: 901-904.
Rapini, A.; M. W. Chase; D. J. Goyder & J. Griffiths. 2003. Asclepiadeae classification: evaluating the phylogenetic relationships of New World Asclepiadoideae (Apocynaceae). Taxon 52: 33-50.
Rapini, A.; C. Berg & S. Liede-Schumann. 2007. Diversification of Asclepiadoideae (Apocynaceae) in the New World. Annals of the Missouri Botanical Garden 94: 407-422.
Renner, S. S. 2004. Plant dispersal across the tropical Atlantic by wind and sea currents. International Journal of Plant Sciences. 165(S4): S23-S33.
Rodríguez, F.; J. L. Oliver; A. Marín & J. R. Medina. 1990. The general stochastic model of nucleotide substitution. Journal of Theoretical Biology 142: 485-501.
Ronquist, F. & J. P. Huelsenbeck. 2003. MRBAYES 3: Bayesian phylogenetic inference under mixed models. Bioinformatics 19: 1572-1574.
Rothe, W. 1915. Über die Gattung Marsdenia R. Br. und die Stammpflanze der Condurangorinde. Botanische Jahrbücher für Systematik 52: 354-434.
Sang, T.; D. J. Crawford & T. F. Stuessy. 1997. Chloroplast DNA phylogeny, reticulate evolution, and biogeography of Paeonia (Paeoniaceae). American Journal of Botany 84: 1120-1136.
Stamatakis, A. 2014. RAxML version 8: a tool for phylogenetic analysis and post-analysis of large phylogenies. Bioinformatics 30: 1312-1313.
Straub, S.C.K.; M. Fishbein; T. Livshultz; Z. Foster; M. Parks; K. Weitemier; R. C. Cronn, & A. Liston. 2011. Building a model: developing genomic resources for common milkweed (Asclepias syriaca) with low coverage genome sequencing. BMC Genomics 12: 211.
Taberlet, P.; L. Gielly; G. Pautou & J. Bouvet. 1991. Universal primers for amplification of three non-coding regions of chloroplast DNA. Plant Molecular Biology 17: 1105-1109.
Talavera, G. & J. Castresana. 2007. Improvement of phylogenies after removing divergent and ambiguously aligned blocks from protein sequence alignments. Systematic Biology 56: 564-577.
Thiers, B. [permanentemente actualizado, consulta 2020] Index Herbariorum: a global directory of public herbaria and associated staff. New York Botanical Garden's Virtual Herbarium, http://sweetgum.nybg.org/ih
Tressens, S. G.; H. A. Keller & V. Revilla. 2008. Las plantas vasculares de la Reserva de Uso Múltiple Guaraní, Misiones (Argentina). Boletín de la Sociedad Argentina de Botánica 43: 273-293.
Vos, R. A.; J. P. Balhoff; J. A. Caravas; M. T. Holder; H. Lapp; W. P. Maddison; P. E. Midford; A. Priyam; J. Sukumaran; X. Xia & A. Stoltzfus. 2012. NeXML: rich, extensible, and verifiable representation of comparative data and metadata. Systematic Biology 61: 675-689.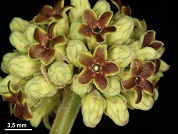 Cómo citar
Keller, H., Liede-Schumann, S., Rapini, A., & Cáceres Moral, S. (2020). El género Ruehssia (Apocynaceae) en la Argentina: filogenia, nuevas combinaciones y nuevos registros. Darwiniana, Nueva Serie, 8(2), 414-437. https://doi.org/10.14522/darwiniana.2020.82.871
Sección
Sistemática y Taxonomía de Plantas

A partir de 2012, esta obra está licenciada bajo una Licencia Creative Commons Atribución-NoComercial 2.5 Argentina .
Cualquier obra derivada deberá estar previamente autorizada con nota escrita de los editores.