Modelos de distribución y análisis morfométrico en Deyeuxia velutina, una especie andina de gramínea
Palabras clave:
Caracteres diagnósticos, morfometría, patrones geográficos, taxonomía integrativa
Resumen
Rúgolo de Agrasar reconoció dos variedades de Deyeuxia velutina (D. velutina var. velutina y
D. velutina var. nardifolia) basándose en el indumento de las vainas, la longitud de la lemma, y la dirección de las hojas. Sin embargo, su delimitación taxonómica ha sido dificultosa debido a la superposición ocasional de estos caracteres. A fin de evaluar la delimitación infraespecífica de D. velutina, presentamos un estudio exhaustivo que combina análisis morfométrico y modelos de distribución potencial. Para explorar la variación morfológica y seleccionar caracteres diagnósticos, medimos 124 caracteres morfológicos en 52 especímenes de ambas variedades y realizamos un Análisis de Coordenadas Principales y análisis univariados (análisis de la varianza y la prueba no paramétrica de Kruskal-Wallis). Ambos taxones resolvieron como grupos morfológicos definidos. Adicionalmente, se realizó un análisis discriminante para clasificar los individuos en los grupos morfológicos predeterminados. Con el fin de modelar la distribución de la especie, se georreferenciaron 26 especímenes de D. velutina var. nardifolia y 68 de D. velutina var. velutina y se analizaron 20 variables ambientales a través del Modelo de Máxima Entropía. Deyeuxia velutina se extiende en regiones altoandinas desde Perú hasta el sur de Argentina y Chile. Ambas variedades difieren en su distribución geográfica; el análisis de regresión de la latitud y longitud en relación con las coordenadas principales del PCoA confirmó esta diferenciación. Deyeuxia velutina var. nardifolia está restringida a la zona norte de la distribución, mientras que D. velutina var. velutina mostró mayor probabilidad de presencia en la región sur. Por otra parte, D. velutina var. nardifolia es reportada aquí por primera vez en la provincia de San Juan (Argentina), lo que constituye el límite austral de su distribución geográfica. Se consideraron caracteres morfológicos adicionales en una clave actualizada de las variedades.
Citas
Austin, M. P. 2002. Spatial prediction of species distribution: an interface between ecological theory and statistical modelling. Ecological Modelling 157: 101-118. DOI: https://doi.org/10.1016/S0304-3800(02)00205-3
Baldwin, R. A. 2009. Use of maximum entropy modeling in wildlife research. Entropy 11: 854-866. DOI: https://doi.org/10.3390/e11040854
Cabrera, A. L. 1957. La Vegetación de la Puna Argentina. INTA Ministerio de Agricultura y Ganadería. 11: 317-412.
Cabrera, A. L. 1978. Regiones fitogeográficas argentinas. Enciclopedia Argentina de Agricultura y Jardinería. ACME. Buenos Aires. 1-85.
Cabrera, A. L. & A. Willink. 1980. Biogeografía de América Latina. Organization of American States, Washington.
Fernández, M.; C. Ezcurra & C. I. Calviño. 2017. Species limits and morphometric and environmental variation within the South Andean and Patagonian Mulinum spinosum species-group (Apiaceae - Azorelloideae). Systematics and Biodiversity 15: 489-505. DOI: http://doi.org/10.1080/14772000.2016.1273975
Ginestet, C. 2011. Ggplot2: elegant graphics for data analysis. Journal of the Royal Society Statistics in Society 174: 245-246. DOI: http://doi.org/10.1111/j.1467-985X.2010.00676_9.x
Hauman, L. 1918. La végétation des hautes cordilléres de Mendoza. Anales de la Sociedad Científica Argentina 84: 121-188.
Hijmans, R. J.; S. E. Cameron, J. L. Parra, P. G. Jones & A. Jarvis. 2005. Very high-resolution interpolated climate surfaces for global land areas. International Journal of Climatology 25: 1965-1978. DOI: http://doi.org/10.1002/joc.1276
Hijmans, R. J. 2020. raster: Geographic Data Analysis and Modeling. R package version 3.3-13. https://CRAN.R-project.org/package=raster
Hijmans, R. J.; S. J. Phillips, J. R. Leathwick & J. Elith. 2016. dismo: species distribution modeling. R package ver. 1.0-15.
Hua, X. & J. J. Wiens. 2013. How does climate influence speciation? The American Naturalist 182: 1-12. DOI: http://doi.org/10.1086/670690
Körner, C. 2004. Mountain biodiversity, its causes and function. AMBIO: A Journal of the Human Environment 13: 11-17. DOI: https://doi.org/10.1007/0044-7447-33.sp13.11
Körner, C. 2007. The use of 'altitude' in ecological research. Trends in Ecology & Evolution 22: 569-574. DOI: https://doi.org/10.1016/j.tree.2007.09.006
Legendre, P. & L. Legendre. 1998. Numerical ecology. Second edition. Elsevier. Amsterdam, The Netherlands.
Luebert, F. & P. Pliscoff. 2006. Sinopsis bioclimática y vegetacional de Chile. Santiago: Editorial Universitaria.
Moroni, P.; N. O'Leary & A. Sassone. 2019. Integrative taxonomy delimits species within the Duranta sprucei complex. Perspectives in Plant Ecology, Evolution and Systematics 41: 125495. DOI: https://doi.org/10.1016/j.ppees.2019.125495
Nelder, J. A. & R. W. Wedderburn. 1972. Generalized linear models. Journal of the Royal Statistical Society Series A 135: 370-384. DOI: http://doi.org/10.2307/2344614
Nicola, M. V.; L. A. Johnson & R. Pozner. 2014. Geographic variation among closely related, highly variable species with a wide distribution range: The South Andean-Patagonian Naussauvia subgenus Stronglyoma (Asteraceae, Nassauvieae). Systematic Botany 39: 331-348. DOI: http://doi.org/10.1600/036364414X677982
Oja, T. & J. Paal. 2004. Multivariate analysis of morphological variation among closely related species Bromus japonicus, B. squarrosus and B. arvensis (Poaceae) in comparison with isozyme evidences. Nordic Journal of Botany 24: 691-702. DOI: http://doi.org/10.1111/j.1756-1051.2004.tb01939.x
Oke, O. A. & K. A. Thompson. 2015. Distribution models for mountain plant species: The value of elevation. Ecological Modelling 301: 72-77. DOI: https://doi.org/10.1016/j.ecolmodel.2015.01.019
Olson, D. M.; E. Dinerstein, E. D. Wikramanayake, N. D. Burgess, G. V. Powell, E. C. Underwood, J. A. D'Amico, I. Itoua, H. E. Strand, J. C. Morrison, C. J. Loucks, T. F. Allnutt, T. H. Ricketts, Y. Kura, J. F. Lamoreux, W. W. Wettengel, P. Hedao & K. R. Kassem. 2001. Terrestrial Ecoregions of the World: A New Map of Life on Earth. A new global map of terrestrial ecoregions provides an innovative tool for conserving biodiversity. BioScience 51: 933-938. DOI: http://doi.org/10.1641/0006-3568(2001)051[0933:TEOTWA]2.0.CO;2
Pankhurst, R. J. & F. Herve. 2007. Introduction and overview, in T. Moreno & W. Gibbons (eds.), The Geology of Chile, pp. 1-4. London: The Geological Society.
Peterson, P. M.; R. J. Soreng, K. Romaschenko, P. Barberá, A. Quintanar & C. Aedo. 2019. New combinations and new names in American Cinnagrostis, Peyritschia, and Deschampsia, and three new genera: Greeneochloa, Laegaardia, and Paramochloa (Poeae, Poaceae). Phytoneuron 39: 1-23.
Phillips, S. J.; M. Dudík & R. E. Schapire. 2004. A maximum entropy approach to species distribution modeling. In Proceedings of the twenty-first international conference on Machine learning. p. 83 ACM. DOI: http://doi.org/10.1145/1015330.1015412
Raxworthy, C. J.; C. M. Ingram, N. Rabibisoa & R. G. Pearson. 2007. Applications of ecological niche modeling for species delimitation: A review and empirical evaluation using day geckos (Phelsuma) from Madagascar. Systematic Biology 56: 907-923. DOI: http://doi.org/10.1080/10635150701775111
R Core Team, 2019. R: A language and environment for statistical computing. Vienna, Austria.
Rissler, L. J. & J. J. Apodaca. 2007. Adding more ecology into species delimitation: Ecological niche models and phylogeography help define cryptic species in the black salamander (Aneides flavipunctatus). Systematic Biology 56: 924-942. DOI: http://doi.org/10.1080/10635150701703063
Rohlf, F. J. 1998. NTSYSpc numerical taxonomy and multivariate analysis system. Version 2.0. Exeter Software, Setauket, New York.
Rúgolo de Agrasar, Z. E. 2006. Las especies del género Deyeuxia (Poaceae, Pooideae) de la Argentina y notas nomenclaturales. Darwiniana 44: 131-293.
Rúgolo de Agrasar, Z. E. 2009. Deyeuxia in Kiesling, R. (Ed.): Flora de San Juan IV. República Argentina. Editorial Fundación Universidad Nacional de San Juan, pp: 55-65.
Rúgolo, Z. E. 2012. Deyeuxia. Clarion ex P. Beauv. in: F. O. Zuloaga, Z. E. Rúgolo & A. M. Anton (Eds.). Flora Argentina. Plantas Vasculares de la República Argentina. Monocotyledoneae: Poaceae: Pooideae 3. Argentina, pp: 180-218.
Ruiz Leal, A. 1959. El desarrollo de estructuras subcirculares en algunas plantas. Revista de Agronomía Nordeste de Argentina 3: 83-138.
Saarela, J. M.; R. D. Bull, M. J. Paradis, S. N. Ebata, P. M., Peterson, R. J. Soreng & B. Paszko. 2017. Molecular phylogenetics of cool-season grasses in the subtribes Agrostidinae, Anthoxanthinae, Aveninae, Brizinae, Calothecinae, Koeleriinae and Phalaridinae (Poaceae, Pooideae, Poeae, Poeae chloroplast group 1). PhytoKeys 87: 1-139. DOI: http://doi.org/10.3897/phytokeys.87.12774
Sassone, A. B.; L. M. Giussani & E. R. Guaglianone. 2013. Multivariate studies of Ipheion (Amaryllidaceae, Allioideae) and related genera. Plant Systematics and Evolution 299: 1561-1575. DOI: http://doi.org/10.1007/s00606-013-0819-5
Schlick-Steiner, B. C.; F. M. Steiner, B. Seifert, C. Stauffer, E. Christian & R. H. Crozier. 2010. Integrative taxonomy: a multisource approach to exploring biodiversity. Annual Review of Entomology 55: 421-438. DOI: http://doi.org/10.1146/annurev-ento-112408-085432
Sites, J. W. & J. C. Marshall. 2003. Delimiting species: A Renaissance issue in systematic biology. Trends in Ecology & Evolution 18: 462-470. DOI: http://doi.org/10.1016/S0169-5347(03)00184-8
Thiers, B. 2020, continuously updated, accessed 14 February, 2020. Index Herbariorum: a global directory of public herbaria and associated staff. New York Botanical Garden's Virtual Herbarium. http://sweetgum.nybg.org/science/ih
Venables, W. N. & B. D. Ripley. 2002. Modern Applied Statistics with S. Fourth Edition. Springer, New York.
Viera Barreto, J. N.; P. Pliscoff, M. Donato & G. Sancho. 2018. Disentangling morphologically similar species of the Andean forest: integrating results from multivariate morphometric analyses, niche modeling and climatic space comparison in Kaunia (Eupatorieae: Asteraceae). Botanical Journal of the Linnean Society 186: 259-272. DOI: http://doi.org/10.1093/botlinnean/box092
Villavicencio, X. & Z. E. Rúgolo. 2014. Deyeuxia in P. M. Jørgensen, M. H. Nee & S. G. Beck (Eds.). Catálogo de las Plantas Vasculares de Bolivia. Monographs in Systematic Botany 127 (2): 1052-1056.
Vogel Ely, C.; B. O. Andrade, J. R. V. Iganci & I. I. Boldrini. 2018. Integrative taxonomy improves delimitation in Hypericum subspecies. Perspectives in Plant Ecology, Evolution and Systematics 34: 68-76. DOI: https://doi.org/10.1016/j.ppees.2018.08.005
Weberbauer, A. 1945. El mundo vegetal de los Andes Peruanos: estudio fitogeográfico. Ministerio de Agricultura Lima, Perú, 776 pp.
Wei, T. & V. Simko. 2017. R package "corrplot": Visualization of a Correlation Matrix (Version 0.84). https://github.com/taiyun/corrplot
Weigend, M. 2002. Observations on the biogeography of the Amotape-Huancabamba zone in northern Peru. The Botanical Review. 68(1): 38-54.
Wiens, J. J. 2007. Species delimitation: New approaches for discovering diversity. Systematic Biology 56: 875-878. DOI: http://doi.org/10.1080/10635150701748506
Wiens, J. J. 2011. The niche, biogeography and species interactions. Philosophical Transactions of the Royal Society B 366: 2336-2350. DOI: http://doi.org/10.1098/rstb.2011.0059
Wiens, J. J. & C. H. Graham. 2005. Niche conservatism: Integrating evolution, ecology, and conservation biology. Annual Review of Ecology, Evolution and Systematics 36: 519-539. DOI: http://doi.org/10.1146/annurev.ecolsys.36.102803.095431
Will, K. W.; B. D. Mishler & Q. D. Wheeler. 2005. The perils of DNA barcoding and the need for integrative taxonomy. Systematic biology 54: 844-851. DOI: https://doi.org/10.1080/10635150500354878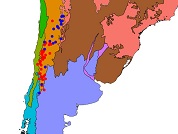 Cómo citar
Ferrero, M., Sassone, A., Giussani, L., & Vega, A. (2020). Modelos de distribución y análisis morfométrico en Deyeuxia velutina, una especie andina de gramínea. Darwiniana, Nueva Serie, 8(2), 509-524. https://doi.org/10.14522/darwiniana.2020.82.894
Sección
Sistemática y Taxonomía de Plantas

A partir de 2012, esta obra está licenciada bajo una Licencia Creative Commons Atribución-NoComercial 2.5 Argentina .
Cualquier obra derivada deberá estar previamente autorizada con nota escrita de los editores.