ESTUDIO PRELIMINAR SOBRE LA DIVERSIDAD GENÉTICA DE LAS ESPECIES ENDÉMICAS Y AMENAZADAS DE PETUNIA (SOLANACEAE)
Edivani Villaron Franceschinelli

Departamento de Botânica, Instituto de Ciências Biológicas, Universidade Federal de Goiás, Goiânia, Goias.

João Renato Stehmann

Departamento de Botânica, Instituto de Ciências Biológicas, Universidade Federal de Minas Gerais, Belo Horizonte, Minas Gerais.

Carlos Melo-Silva

Departamento de Botânica, Instituto de Ciências Biológicas, Universidade Federal de Goiás, Goiânia, Goias.

José Neiva Mesquita Neto

Departamento de Botânica, Instituto de Ciências Biológicas, Universidade Federal de Goiás, Goiânia, Goias.
Palabras clave:
Alozimas, especies raras, plantas tropicales.
Resumen
Las especies raras y estrictamente endémicas son más vulnerables a la extinción debido a su distribución geográfica restringida. El genero Petunia tiene 14 especies y la mayoría de ellas son endémicas de áreas restringidas. Se estudiaron cuatro taxones de Petunia que crecen en el sur de Brasil: P. bonjardinensis, P. reitzii, P. integrifolia subsp. depauperata y P. exserta. Se presenta un estudio preliminar de la diversidad genética de cinco poblaciones de Petunia utilizando marcadores de alozimas. Para los análisis de electroforesis de alozimas se llevaron a cabo ocho sistemas enzimáticos. Se calcularon las medidas estándar de diversidad. La mayor diversidad genética y también el índice de fijación más alto se encontró en las dos poblaciones estudiadas de P. bonjardinensis (P = 90, Âp= 2.2 and 1.9, Ĥe= 0.33 and 0.30, F = 0.31 and 0.27); esta especie se encuentra en pequeñas zonas aisladas entre sí, lo que puede dificultar el flujo génico interpoblacional. Petunia reitzii mostró los segundos valores más altos de diversidad genética (P = 78, Âp= 1.78,Ĥe= 0.28) y Petunia integrifolia subsp. depauperata mostró valores moderados (P = 40, Âp= 1.4 and Ĥe= 0.11). Petunia exserta no mostró loci polimórficos. Nuestros resultados muestran la urgencia de preservar la población estudiada de P. exserta, que no mostró ninguna variación alozímica y se encuentra en un hábitat muy particular y amenazado.
Citas
Ægisdóttir, H. H.; P. Kuss & J. Stöcklin. 2009. Isolated populations of a rare alpine plant show high genetic diversity and considerable population differentiation. Annals of Botany 104: 1313–1322.
Alfenas, A. C.; I. Peters, W. Brune & G. C. Passador. 1998. Eletroforese de proteínas e isoenzimas de fungos e essências florestais. Viçosa: Imprensa Universitária, Universidade Federal de Viçosa.
Barrett, S. C. H. & J. R. Kohn. 1991. Genetic and evolutionary consequences of small population size in plants: implications for conservation, in D. A. Falk & R. K. E. Holsinger (eds.), Genetic and conservation of rare plants. New York: Oxford University Press.
Black, W. C. 1997. BIOSYS-2: A computer program for the analysis of allelic variation in population genetics and biochemical systematics, release 1.7. Illinois: Illinois History Survey.
Crawford, T. J. 1984. What is a population?, in B. Shorrocks (ed.) Evolutionary Ecology. Oxford: Blackwell.
Ellstram, N. C. & D. R. Elam. 1993. Population genetic consequences of small population size: implications for plant conservation. Annual Review of Ecology and Systematics 24: 217–242.
Franceschinelli, E. V. & R. Kesseli. 1999. Population structure and gene flow of the Brazilian shrub Helicteres brevispira. Heredity 82: 355–-364.
Franceschinelli, E. V.; C. M. Jacobi, M. G. Drummond & M. F. S. Resende. 2006. The genetic diversity of two Brazilian Vellozia (Velloziaceae) with different patterns of spatial distribution and pollination biology. Annals of Botany 97: 585–592.
Gitzendanner, M. A. & P. S. Soltis. 2000. Patterns of genetic variation in rare and widespread plant congeners. American Journal of Botany 87: 783–792.
Godt, M. J. W.; J. Walker & J. L. Hamrick. 1997. Genetic diversity in the endangered lily Harperocallis flava and a close relative, Tofieldia racemosa. Conservation Biology 11: 361–366.
Guadagnin, D. L.; J. Larocca & M. Sobral. 2000. Flora vascular de interesse para a conservação na bacia do arroio João Dias: avaliação ecológica rápida, in L. H. Ronchi & A. O. C. Lobato (eds.), Minas Do Camaquã. Um Estudo Multidisciplinar. Pag. 71–84. São Leopoldo: Editora Unisinos.
Hamrick, J. L. & M. J. W. Godt. 1989. Allozyme diversity in plant species, in A. H. D. Brown, M. T. Clegg, A. L. Kahler & B. S. Weir (eds.) Plant Population Genetics, Breeding and Genetic Resources. Sunderland: Sinauer Press.
Hamrick, J. L. & M. J. W. Godt. 1996. Effects of life history traits on genetic diversity in plant species. Philosophical Transactions of the Royal Society of London Biological Sciences 351: 1291–1298.
Levin, D. & H. W. Kerster. 1974. Gene flow in seed plants. Evolutionary Biology 7: 139–220.
Lorenz-Lemke, A. P.; G. Mäder, V. C. Muschner, J. R. Stehmann, S. L. Bonatto, F. M. Salzano & L. B. Freitas. 2006. Diversity and natural hybridization in a highly endemic species of Petunia (Solanaceae): a molecular and ecological analysis. Molecular Ecology 15: 4487–4497.
Loveless, M. D. & J. L. Hamrick. 1984. Ecological determinants of genetic structure in plant populations. Annual Review of Ecology and Systematics 15: 65–95.
Premoli, A. C.; C. Souto, T. A. Unutt & A. C. Newton. 2001. Effects of population disjunction on isozyme variation in the widespread Pilgerodendron uviferum. Heredity 87: 337–343.
Soltis, D. E.; C. H. Haufler, D. C. Darrow & G. J. Gastony. 1983. Starch gel electrophoresis of ferns: a compilation of grinding buffers, gel and electrode buffer, and staining schedules. American Fern Journal 73: 9–27.
Stehmann, J. R. 1987. Petunia exserta (Solanaceae): uma nova espécie do Rio Grande do Sul, Brasil. Napaea 2: 19–21.
Stehmann, J. R. 1999. Estudos taxonômicos na tribo Nicotianeae (Solanaceae): revisão de Petunia Jussieu, das espécies brasileiras de Calibrachoa La Llave & Lexarza e o estabelecimento do novo gênero Petuniopsis Stehmann & Semir. Tese de doutorado, Universidade Estadual de Campinas, Campinas.
Stehmann, J. R.; J. Semir, A. P. Lorenz-Lemke & L. B. Freitas. 2009. The genus Petunia, in T. Gerats & J. Strommer (eds.), Petunia: Evolutionary, Developmental and Physiological Genetics. New York: Springer Science, Business Media.
Swofford, D. L. & R. B. Selander. 1989. Biosys-1: A computer program for the analysis of genetic variation in population genetic and biochemical systematics, Version 1.7. Champaign: Illinois Natural History survey.
Watanabe, H.; T. Ando, S. I. Iida, A. Suzuki, K. I. Buto, T. Tsukamoto, G. Hashimoto & E. Marchesi. 1996. Cross compatibility of Petunia cultivars and P. axillaris with native taxa of Petunia in relation to their chromossome number. Journal of the Japanese Society for Horticultural Science 65: 625–634.
Wright, S. 1943. Isolation by distance. Genetics 28: 114–138.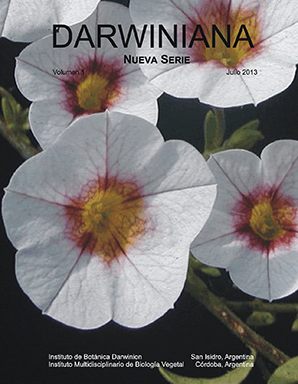 A partir de 2012, esta obra está licenciada bajo una Licencia Creative Commons Atribución-NoComercial 2.5 Argentina .
Cualquier obra derivada deberá estar previamente autorizada con nota escrita de los editores.