Reconocimiento del género Myriopteris (Pteridaceae, Polypodiopsida) en Brasil
Vinícius Antonio de Oliveira Dittrich

Universidade Federal de Juiz de Fora, ICB, Departamento de Botânica, Rua José Lourenço Kelmer, s.n. - CEP 36036-900, Juiz de Fora, MG, Brazil.

André Luís de Gasper

Universidade Regional de Blumenau, Departamento de Ciências Naturais, Rua Antônio da Veiga, 140, CEP 89030-903, Blumenau, SC, Brazil.
Palabras clave:
Brasil, Cheilanthes, cheilanthoide, helechos, taxonomía, Tryonia
Resumen
En el presente trabajo se cita por primera vez al género Myriopteris para Brasil, representado por M. myriophylla, una especie de amplia distribución en el continente americano, desde México hasta la Argentina, pero nunca antes verificada para este país. Se proporciona también una descripción de la única especie representada en el país, además de una imagen y notas.
Citas
BFG - The Brazil Flora Group. 2018. Brazilian Flora 2020: Innovation and collaboration to meet Target 1 of the Global Strategy for Plant Conservation (GSPC). Rodriguésia 69(4): 1513-1527.
GBIF. 2018. Occurrence Download. Published on the Internet: http://doi.org/10.15468/dl.ywhpmz [accessed on 22 December 2018].
Grusz, A. L. & M. D Windham. 2013. Toward a monophyletic Cheilanthes: The resurrection and recircumscription of Myriopteris (Pteridaceae). PhytoKeys 32: 49-64.
JSTOR. 2018. Global Plants on JSTOR. Published on the Internet: http://plants.jstor.org [accessed on 22 December 2018].
Link-Perez, M. A.; L. E. Watson & R. J. Hickey. 2011. Redefinition of Adiantopsis Fée (Pteridaceae): systematics, diversification, and biogeography. Taxon 60: 1255-1268.
Mickel, J. T. & A. R. Smith. 2004. The Pteridophytes of Mexico. Memoirs of The New York Botanical Garden 88: 1-1054.
PPG I. 2016. A community-derived classification for extant lycophytes and ferns. Journal of Systematic and Evolution 54: 563-603.
Ponce, M. M. 2016. Subfamilia Cheilanthoideae W.C. Shieh, en F.O. Zuloaga & M.J. Belgrano (eds.), Flora vascular de la República Argentina 2: 281-316. Instituto de Botánica Darwinion - CONICET.
Ponce, M. M. & M. A. Scataglini. 2018. Further progress towards the delimitation of Cheilanthes (Cheilanthoideae, Pteridaceae), with emphasis on South American species. Organisms Diversity and Evolution 18: 175-186.
Smith, A. R.; K. M. Pryer, E. Schuettpelz, P. Korall, H. Schneider & P. G. Wolf. 2006. A classification for extant ferns. Taxon 55: 705-731.
Sehnem, A. 1972. Pteridáceas, en R. Reitz (ed.) Flora Ilustrada Catarinense Fasc. PTER: 1-244. Herbário Barbosa Rodrigues, Itajaí.
Thiers, B. 2019, continuously updated. Index Herbariorum: A global directory of public herbaria and associated staff. New York Botanical Garden's Virtual Herbarium. http:// sweetgum.nybg.org/science/ih/ [accessed on 18 June 2019]
Tryon, R. M. & R. G. Stolze. 1989. Pteridophyta of Peru. Part II. 13. Pteridaceae - 15. Dennstaedtiaceae. Fieldiana Botany, New Series 22: 1-128.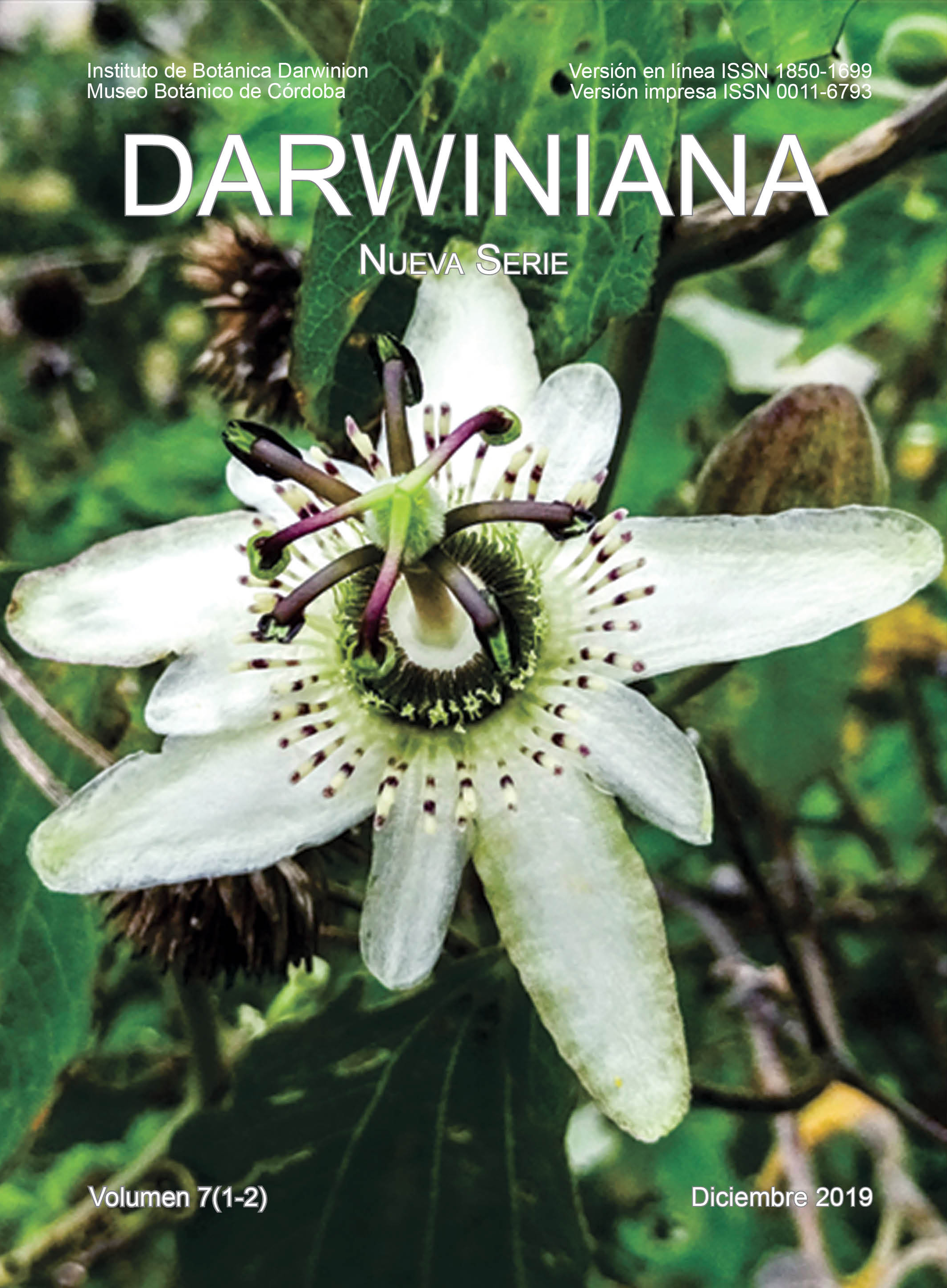 Sección
Notas florísticas y nomenclaturales

A partir de 2012, esta obra está licenciada bajo una Licencia Creative Commons Atribución-NoComercial 2.5 Argentina .
Cualquier obra derivada deberá estar previamente autorizada con nota escrita de los editores.