Las especies de Splachnaceae (Bryophyta) de Tierra del Fuego, Argentina: las esporas y sus modos de dispersión
Rosana Solan

Cátedra de Palinología, Facultad de Ciencias Naturales y Museo, Universidad Nacional de La Plata-UNLP, Calle 64 N° 3, 1900 La Plata, Buenos Aires, Argentina.

https://orcid.org/0000-0003-1932-9319

M. Raquel Piñeiro

Cátedra de Palinología, Facultad de Ciencias Naturales y Museo, Universidad Nacional de La Plata-UNLP, Calle 64 N° 3, 1900 La Plata, Buenos Aires, Argentina; Consejo Nacional de Investigaciones Científicas y Técnicas-CONICET, Argentina.

https://orcid.org/0000-0001-5866-0421
Palabras clave:
Argentina, Bryophyta, entomocoria, esporas, morfología, Tayloria, Tetraplodon, Tierra del Fuego
Resumen
La familia Splachnaceae, es un componente briológico de los bosques templados de Nothofagus en la región fueguina de Argentina. Se halla representada por los géneros Tayloria con tres especies T. dubyi, (endémica), T. magellanica, T. mirabilis, y Tetraplodon con una única especie, Tetraplodon fuegianus. Crecen sobre sustratos orgánicos de origen animal y son la única familia de musgos en la zona que presenta entomocoria (i.e. dispersión de las esporas a través de insectos). A partir de material de herbario, se describen los caracteres taxonómicos de los gametofitos y esporofitos que permiten identificar a las especies. Las esporas fueron estudiadas con MO y MEB. Se observaron y analizaron los vectores de dispersión de Tayloria mirabilis y las adaptaciones morfo-ecológicas asociadas a la entomocoria. Los musgos se diferencian por los filidios y por la morfología y el color de las cápsulas de los esporofitos. Las esporas, similares en las especies estudiadas, se dispersan en masas pegajosas, son esferoidales, monoletes, 8-13 µm de diámetro, con ornamentación foveo-reticulada. Los agentes de dispersión corresponden en su mayoría al orden Diptera. La familia Splachnaceae ha desarrollado estrategias adaptativas en relación al sustrato (gametofitos coprófilos), en la morfología de los esporofitos con llamativas y vistosas cápsulas y en un modo particular de dispersión de las esporas por insectos. Todas estas adaptaciones morfo-ecológicas contribuyen a una acción efectiva de los agentes dispersores en la biocenosis muscinal.
Citas
Boros, A.; M. Jarai-Komlödi, Z. Töth & S. Nilson. 1993. An atlas of recent European Bryophyte Spores. Budapest.
Brown, R. C. & B. E. Lemmon. 1990. Sporogenesis in bryophytes. In: Blackmore, S. & R. B. Knox (eds.), Microspores, evolution and ontogeny: 55-94. Acad. Press, London.
Buck, W. R. 1979. A re-evaluation of the Bruchiaceae with the description of a new genus. Brittonia 31 (4): 469-742.
Calzadilla, E. & S. P. Churchill. 2014. Glosario ilustrado para musgos neotropicales. La Rosa Editorial Santa Cruz de la Sierra. Santa Cruz de la Sierra, Bolivia.
Cameron, R. G. & R. Wyatt. 1986. Substrate restriction in entomophilous Splachnaceae: role of spore dispersal. The Bryologist 89: 279-284. DOI: https://doi.org/10.2307/3243199
Cano, M. J. & J. A. Jimenez. 2013. Brachymitrion laciniatum (Splachnaceae) rediscovered in South America. Polish Botanical Journal 58(1): 231-235. DOI: https://doi.org/10.2478/pbj-2013-0023
Charissou, I. 2015. La mousse lumineuse Schistostega pennata (Hedw.) F. Weber & D. Mohr en France et en Europe. Bulletin Societé Botanique du Centre-Ouest 45: 15-26.
Churchill, S. P. & E. L. Linares. 1995. Prodromus Bryologiae Novo-Granatensis. Introducción a la Flora de Musgos de Colombia. Biblioteca José Jerónimo Triana: 12: 1-924. Part 2: 455-924.
Clarke, G. C. S. 1979. Spore morphology and bryophyte systematics. In: Clarke, G. C. S. & J. G. Duckett (eds.) Bryophyte Systematics. Systematics Association Special Volume 14: 231-250. Academic Press London.
Cox, P. A. 1991. Abiotic pollination: an evolutionary escape for animal pollinated angiosperms. Philosophical Transaction of the Royal Society of London, Series B 333: 217-224.
Culley, T. M.; S. G. Weller & A. K. Sakai. 2002. Evolution of wind pollination in angiosperms. Trends in Ecology and Evolution 17: 361-369.
Edwards, S. R. 1978. Protonemal gemmae in Schistostega pennata (Hedw.) Web. et Mohr. Journal of Bryology 10: 69-72.
Erdtman, G. 1960. The acetolysis method. A revised description. Svensk Botanisk Tidskrift 54: 561-564.
Estébanez, B.; T. Yamaguchi & H. Deguche. 2006. Ultrastructure of the spore in four Japanese species of Ptychomitrium Fürnr. (Musci). Grana 45: 61-70.
Fife, A. J. 2015. Splachnaceae. In Heenan P. B.; I. Breitwieser & A. D. Wilton. Flora of New Zealand - Mosses 18. Manaaki Whenua Press. Lincoln. https://doi.org/10.7931/B16P49
Glime, J. M. 2017. Adaptive Strategies: Spore Dispersal Vectors. Chapt. 4-9. En: Glime, J. M. Bryophyte Ecology. Volume 1. Physiological Ecology. Ebook sponsored by Michigan Technological University and the International Association of Bryologists. http://digitalcommons.mtu.edu/bryophyte-ecology/
Goffinet, B. 2012. Australian Mosses Online 53. Splachnaceae. Australian Biological Resources Study, Canberra. Version 22 June 2012. http://www.anbg.gov.au/abrs/Mosses_online/53_Splachnaceae.html
Goffinet, B.; A. J. Shaw & C. J. Cox. 2004. Phylogenetic inferences in the dung moss family Splachnaceae from analysis of cpDNA sequence data and implications for the evolution of entomophily. American Journal of Botany 91: 748-759. https://www.jstor.org/stable/4123759
Ignatov, M. S. & E. A. Ignatova. 2001. On the zoochory of Schistostega pennata (Schistostegaceae, Musci). Arctoa 10: 83-96. DOI: https://doi.org/10.15298/arctoa.10.09
Jofre, J.; F. Massardo, R. Rozzi, B. Goffinet, P. Marino, R. Raguso & N. P. Navarro. 2010. Fenología de Tayloria dubyi (Splachnaceae) en las turberas de la Reserva de Biósfera Cabo de Hornos. Revista Chilena de Historia Natural 83: 195-206. http://dx.doi.org/10.4067/S0716-078X2010000100012
Jofre, J.; B. Goffinet, P. Marino, R. A. Raguso, S. S. Nihei, F. Massardo & R. Rozzi. 2011. First evidence of insect attraction by a Southern Hemisphere Splachnaceae: The case of Tayloria dubyi Broth. in the Reserve Biosphere Cape Horn, Chile. Nova Hedwigia 92: 317-326. DOI: https://doi.org/10.1127/0029-5035/2011/0092-0317
Khoshravesh, R. & Sh. Kazempour Osaloo. 2007. Spore morphology of certain mosses of northern Tehran, Iran: Taxonomical and ecological implications. The Iranian Journal of Botany 13:150-159.
Koponen, A. K. 1977. Tayloria subgen. Pseudotetraplodon, subgen. nov., and new combinations in Brachymitrion, Moseniella and Tayloria (Splachnaceae, Musci). Annales Botanici Fennici 14: 193-196.
Koponen, A. 1978. The peristome and spores in Splachnaceae and their evolutionary and systematic significance. Bryophytorum Bibliotheca 13: 533-549.
Koponen, A. 1990. Entomophily in the Splachnaceae. Botanical Journal of the Linnean Society 104: 115-127. https://doi.org/10.1111/j.1095-8339.1990.tb02214.x
Kremp, G. O. W. 1965. Morphologic Encyclopedia of Palynology. The University of Arizona Press, Tucson.
Lencinas, M. V.; G. Kreps, R. Soler, P. L. Peri, A. Porta, M. Ramirez & G. Martínez Pastur. 2015. Neochelanops michaelseni (Pseudoscorpiones: Chernetidae) as a potential bioindicator in managed and unmanaged Nothofagus forests of Tierra del Fuego. Journal of Arachnology 43: 406-412. http://dx.doi.org/10.1636/0161-8202-43.3.406
Lewis, L. R.; R. Rozzi & B. Goffinnet. 2014. Direct long-distance dispersal shapes a New World amphitropical disjunction in the dispersal-limited dung moss Tetraplodon (Bryopsida: Splachnaceae). Journal of Biogeography 41: 2385-2395. https://doi.org/10.1111/j.1095-8339.1990.tb02214.x
Luizi-Ponzo, A. P. 1995. Morfologia de Esporos da Famılia Dicranaceae (Bryopsida-Bryophyta). M. Sc. Dissert. Museum Nacional, Universidade Federal do Rio de Janeiro-UFRJ, Rio de Janeiro, Brazil.
Luizi-Ponzo, A. P. & O. M. Barth. 1998. Spore morphology of some Bruchiaceae species (Bryophyta) from Brazil. Grana 37: 222-227.
Magill, R. E. 1990. Glossarium Polyglottum Bryologiae. A multilingual glossary for bryology. Missouri Botonical Garden, St. Louis, 297 pp.
Malcolm, B. & N. Malcolm. 2006. Mosses and other Bryophytes an illustrated glossary. Micro-Optics Press, 228 pp.
Marino, P. 1991. Dispersal and coexistence of mosses (Splachnaceae) in patches habitats. Journal of Ecology 79: 1047-1060. https://doi.org/10.2307/2261097
Marino, P.; R. Raguso & B. Goffinet. 2009. The ecology and evolution of fly dispersed dung mosses (Family Splachnaceae): Manipulating insect behaviour through odour and visual cues. Symbiosis 47: 61-76. https://doi.org/10.1007/BF03182289
Matteri, C. M. 1985. Catálogo de los Musgos. In: Boelcke, O.; D. M. Moore & F. A. Roig (eds.). Transecta Botánica de la Patagonia Austral. Consejo Nacional de Investigaciones Científicas y Técnicas, Buenos Aires, Argentina, 265-297.
Matteri, C. M. & M. M. Schiavone. 1988. Comunidades Muscinales del suelo de los bosques de Nothofagus fueguinos. En Simposio sobre Nothofagus. Monografías de la Academia Nacional de Ciencias Exactas, Físicas & Naturales 4: 25-36.
Matteri, C. M. & M. M. Schiavone. 1991. La Vegetación Muscinal de Bahía Buen Suceso, Tierra del Fuego, Argentina. The Bryologist 94(4): 368-376. DOI: https://doi.org/10.2307/3243825
Matteri, C. M. & M. M. Schiavone. 2002. Catálogo de los musgos (Bryophyta) de la región Fueguina en Argentina y Chile. Revista del Museo Argentino de Ciencias Naturales, n. s. 4: 111-138. http://revista.macn.gob.ar/ojs/index.php/RevMus/article/view/5
Mighell, K. 2011. Investigations in Tayloria mirabilis spore dispersal via dipertans in the Cape Horn Biosphere Reserve, Chile. Conference Paper. Conference: 96th ESA Annual Convention.
Mogensen, G. S. 1981. The biological significance of morphological characters in bryophytes: the spore. The Bryologist 84: 187-207.
Mogensen, G. S. 1983. The spore. In: R. M. Schuster (ed.), New Manual of Bryology. The Journal of the Hattori Botanical Laboratory 1: 325-342.
Olesen, P. & G. S. Mogensen. 1978. Ultrastructure, histochemistry and notes on germination stages of spores in selected mosses. The Bryologist 81: 493-516. https://doi.org/10.2307/3242337
Piñeiro, M. R. 2017. Esporas de Funaria hygrometrica y Entosthodon laxus (Funariaceae, Bryophyta) para la región de Tierra del Fuego, Argentina. Boletín de la Sociedad Argentina de Botánica 52 (1): 39-44.
Piñeiro, M. R. & R. Solan. 2018. Estudio de gametofitos, esporofitos y esporas de las Splachnaceae (Bryophyta) de Tierra del Fuego, Argentina. Boletín de la Asociación Latinoamericana de Paleobotánica y Palinología. XVII Simposio Argentino de Paleobotánica y Palinología, Paraná, Entre Ríos, Número 18: 89.
Piñeiro, M. R.; R. Solan & S. L. Fontana. 2021. Las esporas de Acrocladium auriculatum y Lepyrodon lagurus (Bryophyta) de la región fueguina de Argentina. Darwiniana, nueva serie 9(1): 55-62. DOI: https://doi.org/10.14522/darwiniana.2021.91.925
Punt, W.; P. P. Hoen, S. Blackmore, S. Nilsson & A. Le Thomas. 2007. Glossary of pollen and spore terminology. Review of Palaeobotany and Palynology 143: 1-81. https://doi.org/10.1016/j.revpalbo.2006.06.008
Suleiman, M. & A. M. A. Mustapeng. 2019. The discovery of a dung-loving moss Tayloria octoblepharum (Splachnaceae) on 'toilet pitchers' in Borneo. Malayan Nature Journal 71(1): 17- 20.
Thiers, B. 2021 [continously updated]. Index Herbariorum: A global directory of public herbaria and associated staff. New York Botanical Garden's Virtual Herbarium. http://sycamore.nybg.org/science/ih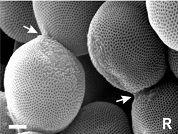 Cómo citar
Solan, R., & Piñeiro, M. R. (2021). Las especies de Splachnaceae (Bryophyta) de Tierra del Fuego, Argentina: las esporas y sus modos de dispersión. Darwiniana, Nueva Serie, 9(2), 254-264. https://doi.org/10.14522/darwiniana.2021.92.958

A partir de 2012, esta obra está licenciada bajo una Licencia Creative Commons Atribución-NoComercial 2.5 Argentina .
Cualquier obra derivada deberá estar previamente autorizada con nota escrita de los editores.